Australia Paid Ranch Work
Up to 12 months from £1,729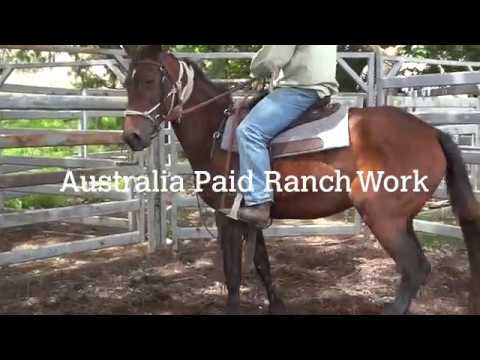 Trip Highlights
Enjoy a guaranteed paid work placement in the exhilarating outback!
Grab a slice of paradise with 4 nights in idyllic Noosa and soak in the sights and sensations of Fraser Island.
The opportunity to secure a coveted second Working Holiday Visa by working as a ranch hand.
Cement your skills with 5 days of training and take full advantage of a 12 month ongoing job support programme.
Accommodation and meals are included in most ranch job placements, allowing you to save money for your next big adventure!
Trip Summary
Horse, cattle, action and adventure! Experience real ranch work in the heart of the Outback. The irresistible lure of this trip lies in the unique opportunity to gain practical skills and head to the Outback with a guaranteed paid job offer! If you're aged between 18 and 30 and love the sound of jumping feet first into a rewarding job role in a stunning location, this 9-day package could be just what you're looking for.
You'll approach your comprehensive training period with fully recharged batteries after 4 restorative nights at the beautiful beach resort of Noosa, gateway to the panoramic paradise that is Fraser Island – the world's largest sand island. Rainforests and sand dunes unite to create a unique and varied landscape, and whether you want to spend your days kayaking or enjoying a rejuvenating spa experience, you're sure to make lasting memories!
Your 5 days of training will equip you with all of the skills necessary to tackle your guaranteed paid ranch job with confidence. You'll come away from your training with a newfound knowledge of all aspects of ranch work, from operating machinery to riding agricultural motorbikes! Ranch work is not only a brilliant way to build skills, but is also a step towards securing a second Working Holiday Visa – ideal for travellers who just aren't ready to get over Down Under!
Interested and want to find out more? Download more trip information and detailed itinerary HERE!
Trip Info
Arrive and relax in Noosa
Begin your trip with a 4 night stay in Noosa – a picturesque idyll sure to give you a warm welcome to Australia. Use this first leg of your adventure to familiarise yourself with your fellow travellers in a setting of unrivalled natural beauty. These first 4 nights are designed with you in mind, so be sure to tailor-make your experience of Noosa in anticipation of your comprehensive ranch training!
Thrill seekers can amplify the adventure with a range of envy-inducing excursions including surfing, skydiving, and action-packed ocean adventure tours, while those in search of relaxation can enjoy the serenity on offer on this idyllic island by visiting one of Noosa's yoga studios or tranquil health retreats.
Be sure to take advantage of your ideally located accommodation and visit the Noosa National Park (just a few minutes from your hostel) where you can soak up the captivating coastline views and beautiful bays. Wildlife lovers can spot some of the rarer species that the Park helps to conserve or visit the Park's active koala population.
Please note that the only inclusions during your time in Noosa are your 4 nights of accommodation and a transfer from Noosa to your training ranch. You'll be responsible for covering the cost of meals and any recreational activities, which are optional extras.
Outback Training
Having recharged your batteries in Noosa, you'll be transferred to the training ranch to brush up your practical skills and get stuck in to life as a ranch hand. Getting up close and personal with Australian agriculture is a fantastic way to get a feel for the country you'll be calling home, and with so much to learn you'll soon find that you've developed a comprehensive skill set to apply to your guaranteed work placement!
The varied nature of ranch work ensures that no two days are the same, and you'll find just as much variety in the new found friends you'll be sharing your ranch experience with. Enjoy the fun of a lively family environment (the maximum group size is 24), alongside the benefits of informative small group training. As a trainee ranch hand, you'll get to grips with the basics of farm and outback safety, and there will be several trainers on hand at your ranch to ensure you get all the attention you need to maximise your learning experience and become a rural regular!
Training Activities Include:
Droving cattle on horseback
Learning basic horsemanship to become a confident horse rider
Riding agricultural motorbikes for a jolt of action and adrenaline!
Learning to drive tractors
Earning serious cowboy points by becoming adept at cattle care – you'll be entrusted with injecting, driving, and mustering.
Gaining the skills necessary to maintain and operate agricultural machinery
Please note: You must hold a manual driving licence in order to participate in this programme.
Start Your Guaranteed Paid Ranch Work Placement!
Following your ranch training, you'll be in the perfect position to jump feet first into a rewarding and varied position on a farm or ranch. We'll be on hand to find you a fantastic role that utilises your skills, and with 12 months of job support, your guaranteed placement is only the beginning of your outback journey!
Ranch jobs available in Australia are many and varied, and throughout your 12 months of job support we'll aim to cater to your individual set of skills and interests to find the job that fits you best. The opportunities below encompass Outback Work and Hospitality Roles, so you'll easily be able to find your perfect fit!
Outback Work
Work with Horses
Put the skills you've gained during your training period to good use in this action-packed role. You'll get up close and personal to the animals on a sheep or cattle station, and be involved with the day-to-day care of the animals. Be prepared to chase and catch any rebellious runaways on horseback, motorbike, or even by helicopter! Applicants hoping to put their horsemanship skills into practice will relish the opportunity to take on this popular role and work in the heart of the Australian outback, but those less suited to such a physically demanding routine might like to consider working with racehorses or on a breeding programme for a less strenuous but equally equine role!
Farming and Tractor Work
You'll soon find that tractor driving is an essential aspect of life on the farm, and because of this tractor drivers are usually in demand across Australia. This position will allow you to easily fulfil your nomadic needs as ploughing and sowing roles are generally short term (approximately 4-10 weeks) which means that employees can move from farm to farm for a varied experience of the agricultural life.
Driving
In addition to tractor work, keen agriculturalists are regularly in demand for bulldozer work and stick raking – a process by which scrub country is transformed into useable land. Experienced animal handlers and horse and motorbike riders are well suited to driving roles, but these skills can be strengthened on the job, giving you an exciting and hands-on challenge! Driving work can usually be promised for the duration of your visa permit, making this role an irresistible opportunity for those hoping to enjoy a longer stay.
Cattle and Sheep Stations
Get an authentic Australian outback adventure by working further afield on a remote station. A 2 day travel period is necessary to reach some locations, so this position is a fantastic way to see some lesser known areas. Your main responsibilities will include droving, branding, tagging, injecting and mustering, alongside day-to-day yard work and maintenance. Australian farming methods are traditional and centred around the meat industry, so you'll be required to take an agricultural approach to animal care.
Hospitality Roles
Outback Tutoring
Teaching is a brilliant opportunity to experience authentic Australian life by living at the heart of a host family, and working with a group of children of different ages and abilities is a fantastic way to maximise your experience. As a welcome addition to the household, you'll soon form close bonds with the family, so this is a fantastic role for applicants who might like to quickly integrate into life in a new community. Outback tutoring will give you a unique insight to teaching – you'll find that you may have to shuffle lessons around to suit the needs of a busy working ranch, but as lesson plans and resources are included you'll always be fully prepared to teach! Graduates and those with teaching experience are ideal for this role, but if you're educated to A-Level standard and have the enthusiasm necessary to work with children this could be the perfect placement for you.
Pub and Bartending
Become a staple of an Australian community by working in an outback pub or roadhouse, offering much needed respite for the locals after a working day. Hospitality positions are brilliant for applicants hoping to enjoy a social role that allows them to easily adopt outback community life!
Real Gap is always on hand to help you iron out the details and find your perfect placement, so please do not hesitate to ask us about any of the types of work on offer!
What you Can Expect to Earn
The minimum wage is AUD350 per week, and as meals and accommodation are often included in ranch and farm placements, you'll be left with extra income to explore Australia or save up for your next bout of globetrotting!
In most positions you'll begin on a basic wage, but this is largely dependent on skills and experience, so as you make the transformation from novice to natural, you could see your wages grow alongside your skills!
What's Included
5 days of active and informative ranch training
A guaranteed job offer once your ranch training is complete
A recuperative 4 night stay in the awe-inspiring beach resort of Noosa
12 months of dedicated job support
9 nights' accommodation, including 4 nights at the ideally located Halse Lodge in Noosa, and 5 nights on your homely training ranch
Accommodation is usually included as part of your job placement
A transfer to Noosa from Brisbane airport
A transfer from Noosa to your training ranch
3 hearty meals on each day of your ranch training
Complementary internet access at your training ranch
24 hour emergency support
What's Not Included
Flights
Travel Insurance
Visas (unless you have booked the 'visa included' trip option)
Meals in Noosa
Optional extra activities or excursions in Noosa
Transfer back to the airport
Transfer between jobs
Chloe Phillips
How would you rate your overall experience?
Please rate the service received from our team before departure
Please rate the service provided by the team in country
How do you rate your arrival overseas and orientation (if applicable)?
Please rate the accommodation during your stay
What were the highlights of your trip?
Meeting some amazing people and having endless laughs. Learning lots of useful skills. Learning the ways of ranch life.
Tips for other travellers?
Be prepared for hard work Laugh lots at yourself and others Have a go even if you think you can't do it. Nine times out of ten, you can.
James Barber
How would you rate your overall experience?
Please rate the service received from our team before departure
Please rate the service provided by the team in country
How do you rate your arrival overseas and orientation (if applicable)?
Please rate the accommodation during your stay
william bell
How would you rate your overall experience?
Please rate the service received from our team before departure
Please rate the service provided by the team in country
How do you rate your arrival overseas and orientation (if applicable)?
Please rate the accommodation during your stay
What were the highlights of your trip?
Fantastic boss in Craig Pickering
Will Hardie
How would you rate your overall experience?
Please rate the service received from our team before departure
Please rate the service provided by the team in country
How do you rate your arrival overseas and orientation (if applicable)?
Please rate the accommodation during your stay
What were the highlights of your trip?
Best week of my life. The people that teach you on this experience are awesome. As soon as I arrived at the ranch I began laughing. As long as you are an outgoing person there is not a better thing to do with your time. I could not recommend this experience enough.
Is there anything else you would have liked to have added to your itinerary?
Something to do while in Sydney.
Tips for other travellers?
Be up for anything so you have no regrets. Be fun and outgoing. Do not worry what people think of you!
Any other comments?
One more time, thank you! Oh and add an august to the dating of this review.
Laura Fell
How would you rate your overall experience?
Please rate the service received from our team before departure
Please rate the service provided by the team in country
How do you rate your arrival overseas and orientation (if applicable)?
Please rate the accommodation during your stay
What were the highlights of your trip?
learning to ride australian western, swimming with horses in a large pond and mustering cattle and sheep on horse back
Joe Nicholson
How would you rate your overall experience?
Please rate the service received from our team before departure
Please rate the service provided by the team in country
How do you rate your arrival overseas and orientation (if applicable)?
Please rate the accommodation during your stay
What were the highlights of your trip?
The experience of training on the ranch was amazing, it was hard work but really good fun.
Is there anything else you would have liked to have added to your itinerary?
The time on the ranch went so quickly would have been amazing if it was longer.
Tips for other travellers?
1. Get involved with everything it will be the most fun you ever have.
2. Be prepared to laugh at yourself when you make mistakes because everyone will make them.
3. Make the most of every day.
How would you rate your overall experience?
What were the highlights of your trip?
meeting great like minded people, hands on experience with the animals and machinery, living with a great family for 3 months, experiencing the true australian outback
How would you rate your overall experience?
Please rate the service received from our team before departure
Please rate the service provided by the team in country
Please rate the accommodation during your stay
What were the highlights of your trip?
Mustering cattle in from an Australian cattle station on horseback. Skydiving from 14,000ft to land on Mission Beach. Seeing Uluru in the rain. And working for 5 amazing months on a stud farm in Australia.
Tips for other travellers?
Don't be scared to do new, challenging things and to travel on your own. Pack extremely lightly, you won't use half the stuff that you take and it's annoying lugging it all around. Aim to enjoy every second of your trip.
How would you rate your overall experience?
Please rate the service received from our team before departure
Please rate the service provided by the team in country
Please rate the accommodation during your stay
What were the highlights of your trip?
The highlight for sure was the Ranche experience. My goodness it was amazing. I grew ten feet (in confidence) and experienced adventures I never thought I would. The people were extremely nice and welcoming and helped out everywhere they could. I couldn't have asked for anything more. It was the best time of my life and I will never ever forget it :D
Tips for other travellers?
Go with it, don't stick to old values and ideas. Just take everything for what it is and work hard. So be openminded. Try to see as much as possible it is a genuine beautiful country filled with lovely people who want to help. Dont by sunscream at home :P It is way better and cheaper over there ;)
Accommodation & Meals
Your time in Noosa will be spent enjoying relaxed days at a comfortable hostel, sharing a dorm room only minutes away from the beach. Noosa is often dubbed 'Australia's favourite backpacker location', so you're sure to meet some fantastic travellers and get to know your fellow Real Gap participants very well!
During your initial 4 night stay in Noosa, meals will not be included, but the area offers a range of cuisines sure to make a memorable culinary experience. Enjoy waterfront dining at the Noosa Boathouse, or loaf at the Surf Club for casual beach based meals, then round your evening off with a relaxed drink at one of Noosa's many atmospheric bars. Be sure to whet your appetite by looking into any eateries that take your fancy to ensure you've budgeted adequately. You'll also be able to grab affordable and tasty meals at your hostel.
Once at the Training Ranch, you'll enjoy a communal family vibe, sharing a room with between two and six others. Three delicious home cooked meals will be provided for you daily at the ranch providing a great opportunity for you to relax with good food and good friends.
Following your training, you'll be placed in a guaranteed paid position, usually at an outback family home. Most of these placements include accommodation and meals, allowing you to save your wages or spend them on further outback adventure. Win win!
More Accommodation & Meals
Flights
To arrange your flights, contact our fantastic flights team on 01892 277037 or email them at [email protected] Or by using the form below.
Get Flights Quote
Arrival Information
You'll need to ensure that you arrive at Brisbane International Airport (BNE) on a Thursday, and you should aim to arrive between 6:00am and 10:00am. Once at the airport, you'll be met by one of our lovely representatives who will remain at the airport until 11am and they will direct you on the transfer bus to your hostel in scenic Noosa, located on the stunning Queensland coast. It should take approximately 2 hours to transfer to Noosa from Brisbane Airport, plenty of time for you to relax and enjoy the scenery.
We understand that a Thursday arrival may not be possible for you, and in this event you should plan to get to Brisbane a day or so earlier and arrange extra accommodation. Transport to and from the airport is affordable and easy to arrange, we can also recommend a great hostel for you to stay.
If you arrive outside of the hours of 6am to 10am on your start date or into the Domestic Terminal, we will be able to give you the details of a local company who you can arrange a transfer to Noosa with. Please note that if you arrive into the Domestic Terminal within the designated pick up time, it possible to get a transfer to the International Terminal for around AUD $5, where you will then be able to meet the greeter service for an included transfer to Noosa.
To arrange your flights, contact our fantastic flights team on 01892 277037 or email them at [email protected]ts.co.uk. They will be able to search for the best flight offers to your chosen destinations, so you can plan and organise your trip in one place. Just make sure you give them your full name, as stated in your passport, along with your chosen departure dates, return dates, and any other details you want to include.
Eligibility & FAQ's
To participate in this trip, you must be aged 18-30 to ensure that you fit the Working Holiday Visa age restrictions. Those intending to book this trip can book this experience with the Working Holiday Visa included, or apply for it independently via Australian Immigration. You must have a paper copy of your visa grant confirmation letter with your visa grant number on it when you begin training. For further Visa information please refer to our FAQs.
This Working Holiday Visa is available to passport holders from Belgium, Canada, the Republic of Cyprus, Denmark, Estonia, Finland, France, Germany, Hong Kong SAR, the Republic of Ireland, Italy, Japan, the Republic of Korea, Malta, the Netherlands, Norway, Sweden, Taiwan, and the United Kingdom.
Candidates must meet the following requirements to be eligible for the Working Holiday Visa:
Be in possession of a valid passport issued by an eligible country or region
Have a valid manual driving licence
Be aged 18-30 (inclusive) at the time of applying
Not be accompanied by any dependent children at any time during their stay in Australia
Meet health, character and financial requirements
Candidates who have previously suffered from certain medical conditions including depression, anxiety, ADHD etc will be ineligible for this programme
Not have previously entered Australia on a Work and Holiday Visa (unless the candidate is applying for a second visa)
Be outside Australia when they apply and when their visa is granted
Apply within 12 months of intended travel to Australia
Have sufficient funds to cover any costs incurred
Be in possession of a ticket to depart Australia, or hold the funds necessary to purchase a return or onward ticket from Australia
Have valid health insurance
Candidates must be responsible, mature, and independent in order to successfully fulfil a professional ranch employment placement
Please ask a member of our travel advice team for additional information on the Second Working Holiday Visa scheme. Working on a ranch is one of the few ways to qualify for this visa, so participating in this trip may give you the opportunity to extend your stay in Australia!
Medicare
Once in Australia, you must apply for Medicare. In order to do this you'll need to provide TWO separate forms of ID, e.g. a passport, driving licence, birth certificate etc. Ensure you bring your two forms of ID along when you're packing!
How Long Are Most Jobs And How Long Are Most Employers Expecting Me To Work For?
Providing there is enough demand, you are able to work for one employer for a maximum of 6 months. The majority of employers are looking for employees to work for one 3-month season, and each season will help you to build your experience and expertise in exciting and challenging new ways. Some roles may run for less than 3 months.
Is It Possible To Find Work With A Friend?
Friends with a similar skill set and level of ability may be accepted by the same employer on the same ranch or farm. If travelling with a friend whose expertise differ from yours, you may both be expected to accept positions that suit the least skilled participant in order to be placed together. Single placements are more common than joint placements, so if a joint placement is a must have element for you, please be aware that you may have to compromise on pay, location, or the amount of time you have to wait for a placement. Due to the seasonal nature of ranch work, joint placements are purely circumstantial and offered on a case by case basis, and so cannot be guaranteed.
What About Visas?
Working Holiday Visas can be obtained by individuals aged between 18 and 30, and you will need one in order to participate in this trip. You have the option to book the programme with the visa included, or refer to Australian Immigration in order to apply for one independently.
Can I Obtain A Second Year Of Working Holiday Visa With Jobs Offered Through Your Programme?
Obtaining this second visa allows you to remain in Australia for an additional year, and the good news is that 99% of the job placements we offer are in the right area code to qualify for a second holiday visa. Only outdoor ranch work allows you the opportunity to attain this visa, so participants who choose to work in hospitality or childcare will not be eligible to apply for it. If attaining a second working holiday visa is an integral part of your decision to participate in this trip you should consider what type of work you are best suited to.
Can You Guarantee Me A Horse Riding Job?
We cannot guarantee a riding position, but participants who have relevant experience horse riding and working with horses will be in a fantastic position to gain a horse riding job. Horses are valuable ranch animals, and ranch owners place great importance on ensuring they have the right employees riding and caring for them. Working with horses is demanding and requires a responsible candidate who is able to treat the animals as working livestock and take an unsentimental approach. Fortunately, the opportunity to work with horses is available in cattle mustering, polo yards and show jumping stables. This type of work is often dependent on the unpredictable Australian weather, and will involve other essential ranch duties such as ground and cattle work.
How Far In Advance Should I Book This Programme?
We advise you to book this programme as early as possible. Because this trip gives you the opportunity to secure a second Working Holiday Visa and offers guaranteed job positions, places are valuable and the spaces fill up quickly! Booking early also means you have the best chance of getting your preferred Thursday start date. If booking late you may have to flexible with your start date. This programme is particularly popular from September – November and January – February, so do try to book as early as possible!
Do I Have To Stay For A Whole Year?
The brilliant thing about this programme is that although you are under no obligation to stay for an entire year, you can enjoy the benefits of our 12 month job support programme should you decide to stay. This is a flexible programme and it is completely up to you to determine the ideal length of time you'll be in Australia. As you know, this trip can give you the opportunity to secure a second Working Holiday Visa, which can give you the freedom to tailor the length of time you choose to stay. We advise that you should be prepared to commit to a minimum of three months employment, as this is often the minimum term for many ranch jobs and staying for a shorter length of time may limit job opportunities. Feel free to return home, travel or explore following your initial paid work placement – you are always more than welcome to return to us for help with securing another placement.
When And How Often Does The Training Course Run?
The training course runs most weeks a year, with the exception of 4 weeks across December and early January due to the wet season and the reduced demand for employees over the Christmas period. The training programme may take a break at another time in the year, but we will always work with you to help you to find a place on a trip that suits your schedule.
How Long Does It Take For My Working Holiday Visa To Be Granted?
It should only take a few days to process your visa, as long as you have no previous criminal convictions and hold a valid passport. To avoid disappointment, only apply for your visa and arrange flights once your place on the ranch jobs programme has been confirmed with an acceptance letter.
Where Are The Ranch Jobs Located?
Due to the wide variety of positions on offer, you could be placed anywhere in Australia, and should be prepared to travel to work in particularly rural locations. Please ensure that you have the funds necessary to travel to your job placement from the training farm. We recommend that you bring AUD900 spending money, but it would be a great idea to check out the activities on offer in Noosa and decide how much you might like to do before your training programme when budgeting. The majority of travel costs between the training farm and job placements are in the region of AUD200-400, and these costs are not included in the price of the programme. As we are based on the East Coast there are many jobs available in Queensland and New South Wales, and we have a wide network of job contacts in this area. Please note that you are solely responsible for the financial cost of travelling to your job placement. Should you spend all of your funds and be unable to travel to your placement we will be unable to cover any costs.
How Soon Will I Start Paid Work Following The Training?
Most jobs will begin on the Monday following your training period, allowing you to use the weekend to travel to your placement. Australian transport services can be limited, especially when travelling between remote environments, so it may take you longer to reach your placement in some cases. When budgeting, it is advisable to factor in some extra funds to cover unexpected expenses for hostels or food.
What Will I Get Paid?
The standard ranch work wage is based on the Level 1 Farming and Livestock Hand Award Wage, which is the legal minimum wage, but oftentimes employers will pay slightly above this. You can expect to earn roughly AUD300-350 during an average 5-6 day working week, and your offers are likely to be somewhere in this region. We advise employees to accept no less than this, unless they are compromising on level of pay in order to gain specific skills. Applicants with specialised farming skills may earn up to AUD900-1000, but this is rare. Once tax and accommodation contributions have been taken into consideration, those aged 20+ can expect to keep approximately AUD296 per week, 19+ approximately AUD255 and 18+ approximately AUD214.
Why Do I Need A Manual Driving Licence?
A manual driving licence is essential to this programme as employers often expect their workers to drive between locations, run errands in the local area, or drive to the nearest town. Most of the jobs on offer in Australia are on sites that can only be reached by car, and the daily duties of a farm worker often require a manual driving licence. You will be competing for valuable work placements, and are far more attractive to an employer if you are in possession of a manual driving licence, and you will also be better able to drive motorbikes and tractors on the farm. Most farm accidents are caused by workers who do not hold driving licences, and it is therefore far safer for you and your employer if you hold a valid manual driving licence.
How Much Baggage Should I Bring?
You must not carry over 20kg of weight in one bag. If you would like to carry over 20kg you must be prepared to distribute the weight across more than one bag. As extra bags will incur a fee, we would advise you to travel as lightly as you possibly can in order to keep additional costs to a minimum when travelling on domestic flights.
Dates & Prices
Why us?
Book for only £49
Financially secure
Travel buddies
Well travelled staff
24/7 support
The leading UK gap year company
Online booking is unavailable for this trip
If you'd like to discuss availability or would like us to help you find a similar trip please contact us...