Philippines Island Hop
12 days from £1,219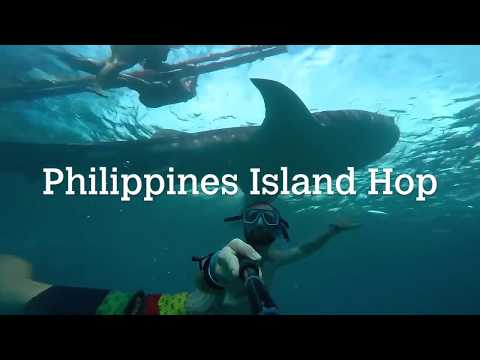 Trip Highlights
Snorkel, kayak, paddle board and swim in crystal clear waters
Swim with huge (but friendly) whale sharks
Visit some of the most stunning waterfalls and natural springs in the Philippines
Explore the 'small and big lagoons' on your group's private boat
Try traditional Filipino cuisine
Explore the islands around Boracay Island on a sailing boat
Trip Summary
Thinking about exploring the Philippines, but only got a limited amount of time? The Philippines has so much to offer and this epic 12-day tour takes you to all of the very best locations.
After meeting your group and guide in Manila, you'll head out to the islands to spend the rest of the trip relaxing on sandy white beaches, enjoying the seafront nightlife and cruising through crystal clear waters on a sailing boat.
You'll explore the picturesque 'small and big lagoons', swim in natural springs, taste the local cuisine, try to stay standing on a paddle board and swim with huge (but very friendly) whale sharks!
Interested and want to find out more? Download more trip information and detailed itinerary HERE!
Day 1: Arrive into Manila
Welcome to the Philippines! Your group leader will be waiting for you at Manila airport and will transfer you to your first nights' accommodation. You can spend the rest of the day exploring the local area, hitting the shops or recovering from the flight.
This evening you'll meet up with the rest of your group and head out for a welcome dinner and drinks (paid for locally).
Day 2: Transfer to El Nido
After breakfast, your group leader will run through the itinerary and give you a full orientation on what's to come. It's then time to board the first flight of the trip to the city of Puerto Princesa, where we'll then make the rest of the journey to El Nido by bus.
You'll have time to check into your accommodation and freshen up, before enjoying some dinner and drinks.
Day 3: Free time in El Nido
With time to kick back and relax in your stunning surroundings in El Nido today, you'll have the opportunity to explore the area if you're feeling inquisitve, otherwise simply unwind on the beach with a cocktail or two.
Day 4: Boats, Lagoons & Island Beaches
Today, we'll spend the day on our private boat exploring some of the Philippines' most stunning islands. You'll have the chance to do some snorkelling, hire a kayak (approx £2) and relax on some breathtaking beaches, before heading to one of the most picturesque places in the world, the 'small and big lagoons.'
Day 5: Beach Day
Seeing as it's been such a busy start to your Philippines Island Hop, you'll have today to relax and top up your tan on a stunning white sand beach.
Day 6: Transfer to Oslob
Please note: From days 6-9 you'll be travelling on the island of Cebu. The Foreign & Commonwealth Office of the UK Government currently has an amber travel advisory notice for the southern part of Cebu island, meaning that the FCO advises against all but essential travel to that particular area due to the threat of terrorism. Due to this it is important to note that you travel insurance may become invalid, please check with your insurance provider regarding your coverage. Tourists continue to visit and explore this area of the country unaffected. Furthermore, the Australian and USA government websites do not advise against travel to this area of the country. Contact us for further information.
It's time to head to the next destination! We'll take the bus back to Puerto Princesa and board a quick flight to Cebu. Once we've arrived, we'll drive to Moalboal, which will be our home for the next three nights. After your day's journey you'll have time to check in and get freshened up before exploring the local area and enjoying a yummy dinner with the rest of your group.
Day 7: Waterfalls & Natural Springs
Today, we'll head deep into the hills of Cebu to visit some of Philippines most breath-taking waterfalls. Take your swimmers as you'll have a chance to swim in the clear blue waters of Kasawan Falls, which is just one of the many stunning natural springs in this area. This really is the perfect place to cool off and spend the day.
Day 8: Swimming with Whale Sharks
Are you ready for an unforgettable experience? Today, we'll head out on a boat and swim with some giant (but friendly) whale sharks! Don't forget to take your underwater camera; you'll want to remember this.
Once we've dried off we'll take a short ride back to Moalboal, where we'll get to snorkel with thousands of sardines on a 'sardine run' – pretty spectacular!
Day 9: Transfer to Borocay Island
After taking the bus back to Cebu City and boarding the last flight of the trip, we'll arrive at our final destination, Boracay Island.
After your day of travel you will arrive in the evening and get to explore the beach before watching one of the most stunning sunsets in the world and enjoying Boracay's night life, right on the beach front.
Day 10: Free time to chill out and explore
Today you will get to chill out on the beach and top up your tan in Boracay. Enjoy a beer or a cocktail, dip in the warm ocean and enjoy the stunning scenery.
Day 11: Ariel's Point, paddle boarding and kayaking
We'll head over to Ariel's point, which is just a short boat ride away from Boracay Island. Here you'll get to spend the day snorkelling in the clear water, exploring in a kayak and trying some paddle boarding. We'll also try some of the delicious local cuisine for lunch. This evening we'll celebrate this incredible adventure at a farewell meal and party. An amazing way to round off this awesome experience!
Day 12: Time to say goodbye!
After an awesome time in the Philippines, it's sadly time to check out of your accommodation and say goodbye to your new friends. This tour finishes on Boracay Island, but your group leader will be able to help you plan your onwards travel.
Please note itineraries and activities are subject to change.
Departures between April and October 2018
Important note: The authorities in the Philippines have recently made an announcement of their intentions to close the island of Boracay for a period of approximately 6 months from 26th April 2018. For departures from 23rd April to 15th October 2018, the trip will follow an amended itinerary from days 9-12 which is outlined below.
Day 9: Welcome to Panglao
Today we will travel to Moalboal by bus and ferry to the idyllic island of Panglao off the coast of Bohol. This evening you'll have dinner at the beach with the rest of the group.
Day 10: Island Hopping
We'll spend the day exploring Balicasag Marine Reserve and Virgin Island. We'll have plenty of stops for swimming in the unbelievably crystal clear waters, stopping off at beautiful coves along the way before rounding off the day at Alona Beach.
Day 11: Hinagdanan Caves
Today we'll be exploring the amazing Hinagdanan Caves and marvelling at the impressive stalactites and stagalmites before ending the day with a farewell group meal.
Day 12: Time to say goodbye!
All good things must come to an end and your trip finished on the island of Panglao this morning. You can travel back to Manila via two ways, either from the nearby Tagbilaran Airport or by catching a 2 hour ferry to Cebu City and flying from there. We strongly recommend arranging your onwards flights to depart from Manila the day after your trip end date.
Please note: All itineraries are subject to change based on local weather conditions and operational reasons. If an activity cannot go ahead the local team will always endeavour to replace it with a similar alternative.
11 nights' accommodation
Arrival airport transfer
All transport mentioned in the itinerary (including 3 domestic flights)
Some meals
Paddle boarding
Small & Big Lagoon cruise
Swim with whale sharks and sardines
Ariel's Point excursion
Advice and assistance for onward travel
24/7 Emergency Support
Flights (apart from the 3 internal flights mentioned in the itinerary)
Travel insurance
Return airport transfer
Food and drink
Any additional activities not stated in the itinerary
Throughout your time in the Philippines, you will be staying in basic but clean and secure accommodation.
Rooms can vary between twin/triple share rooms to dorm style accommodation. All rooms are single sex and you will be sharing with other members of your group.
Food and drinks will are not included, however, our team will be able to show you the best places to eat and drink throughout the trip.
.
More Accommodation & Meals
To get a flight quote simply use the form below, or contact our fantastic flights team on 01892 277037.
Get Flights Quote
Your flight to Philippines should arrive at Manila Ninoy Aquino International Airport (airport code: MNL) on your programme start date. We recommend arriving in the morning or early afternoon, so that you are able to get settled in and freshened up before your welcome meal at 7:30pm.
The tour finishes on Boracay Island on the programme end date. The nearest airports to Boracay Island are Caticlan airport (MPH) which is about an hour away, or Kalibo airport (KLO) which is about 3 hours away.
Departures between April to October 2018
If your start date is before 16th October 2018, your trip will end on Panglao Island off the coast of Bohol. There are two return transfer options from Panglao at the end of the tour:
Flight from Tagbilaran Airport: Tagbilaran Airport is around 45 minutes from Panglao and there are direct flights from there to Manila
Flight from Cebu City: You can catch a 2 hour ferry to Cebu Island and then an internal flight from Cebu City to Manila.
Please ensure you allow enough time between your internal flights at the end of your tour and your international flight out of Manila.
To book your flights, please contact our flight specialist on 01892 277037 who will do their best to get you the best deal on the day. Please provide them with your full name as it is stated in your passport.
Before you make the call please make sure you have your required departure dates, return dates and other details you may require. It is important that once you have booked your flights you add these details to your online account or alternatively you can contact us with your departure date, the flight number and arrival time at your destination.
The minimum age for this trip is 18 years old.
Online booking is unavailable for this trip
If you'd like to discuss availability or would like us to help you find a similar trip please contact us...