Cambodia Volunteering
1-6 weeks from £499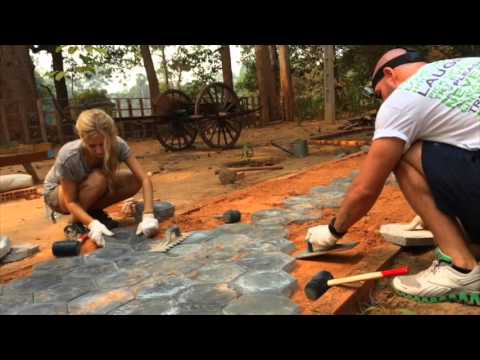 Build a better future for kids
Trip Highlights
Choose from a range of volunteer projects in Cambodia
Help improve living conditions for an entire community
Give children the inspiration to learn and better their future prospects
Learn new skills and gain experience working on different community projects
Explore Siem Reap and Angkor Wat in your own time
Make memories for life on a once-in-a-lifetime experience
Trip Summary
If it's meaningful travel you're after, there's no better experience than volunteer work in a community setting, and our Cambodia projects are some of the most rewarding. Our teams in Siem Reap work tirelessly to help communities in desperate need, and are always looking for willing volunteers to help out and offer their support – so this is your time to shine! You'll get to choose from a handful of projects, from building homes and general repairs to helping teachers educate children on a range of subjects, and installing new water systems to provide the community with clean water.
It's not all work though. You'll meet likeminded people who will likely become firm friends for life, and in your downtime you'll get to explore the wonders of beautiful Cambodia, including the incredible Angkor Wat. It's the best programme for a full-on travel experience and a chance to do something amazing.
Interested and want to find out more? Download more trip information and detailed itinerary HERE!
In Siem Reap we're proud to work with a number of different NGOs (non-government organisations), each of whom have a common goal; to provide free resources, free education for the local children and better hygiene and living standards for the communities in the surrounding villages.
Unfortunately public school teachers are heavily underpaid in Cambodia, meaning that the learning environments are often dull and one-on-one care of the students is very rare. The NGO that we work with strives to create a warm and friendly environment where each student is genuinely cared for and inspired. The more volunteers that are at the school, the more time the children have with a teaching assistant.
Due to many of these communities being slums, hygiene is often very poor due to the lack of clean running water. The NGOs are committed to changing this by clean water systems that provide families and villages with clean, fresh water.
As many families and members of these slum communities have little or no income, maintenance of the shacks that they call home is not on their list of priorities – that would be eating! There is an ever growing list of community members who are desperate for home maintenance. With your help however, we won't just patch up holes, we'll build them a new home!
There is a lack of sanitary infrastructure in the rural communities which is something that can be fixed with your hard work and contribution. Building a toilet block for families with small children can save lives, it really is that simple.
In Siem Reap we have many projects available in several areas. To make sure that our volunteers are working where the help is most needed you will be placed at any one of these projects to ensure that you have the biggest impact during your time as a volunteer.
Teaching
Children in Cambodia's village schools used to have little of a future ahead of them. The level of education they face each day is very poor due to teacher's wages being so low and lack of training that the teachers receive.. Many teachers in these schools, in particular those in rural areas, aren't qualified and are there more to oversee the day to day running of the school. English levels can sometimes be a of low standard which is then subsequently passed onto the children.
The NGOs we work with in Siem Reap offer children regular, free and interesting English education. Having even a basic understanding of the English language will open up so many more employment opportunities as these children grow up giving them the chance to escape the never ending cycle of poverty that they find themselves in. Siem Reap is a town built on tourism and the opportunities for a better life are out there for the young adults with the right skills.
With help, our volunteer teachers will be required to plan exciting lessons to keep the children engaged and will have the chance to teach a full class of children. You won't be thrown in at the deep end though, our local team will be there to ensure you are comfortable and confident before you are allocated your own class to teach..
(Minimum duration for teaching is 2 weeks)
Clean Water Campaign
Hygiene levels in Cambodia's slum communities are almost non-existent because there's no access to clean water. We're trying to make a difference with this and bring clean, fresh water to as many homes as possible. You can easily join in and help by picking up a shovel, getting your hands dirty and helping with the installation of clean water pumps for the local community to use.
Previous volunteers have already fitted a number of water pumps and it has made a huge difference to people's lives, health and hygiene. Don't worry, we don't expect you to know how to get a pump fitted, we'll show you everything you need to know and you'll be helping in more ways than you can possibly imagine!
Construction & Development
Community development is a term we use to cover a number of projects going on at any given time. Projects will vary depending on the number of volunteers we have at any given time, along with the need of the community we support.
The NGOs we support have constant work for anybody who is willing to get their hands dirty and know the difference between a hammer and a lightbulb! Whether it's renovating crumbling buildings, fixing damaged drainage systems or building new family homes from scratch, there is plenty to keep you busy.
Buildings can and often do become damaged and uninhabitable during rainy season. Running repairs are something that keep our teams very busy and are required to keep the family inside, safe and dry.
Example Itinerary
Day 1: Arrive into Siem Reap
Let us know how and when you're arriving in to Siem Reap and you'll be picked up by a member of the in-country team. We'll transfer you to our homely volunteer house where you'll be shown to your room and introduced to the other volunteers and staff staying there.
You'll be given time to get settled in and unpacked before having a quick orientation to run through everything you need to know for your time in Cambodia. We'll explain the work that the NGO's do, the goal they are working to achieve and how you will be helping them achieve it. You'll also be given a run-down of your itinerary and will have the chance to ask as many questions as you like!
Day 2: Exploring Siem Reap
Before getting stuck in with the hard work, you'll have a day to explore the local area and make yourself more at home in this incredible city. If you're up for it we can arrange for you to spend the day getting your Lara Croft on and exploring the 1,200 year old ruins at Angkor Wat (at an additional cost). This place has to be seen to be believed and is very often voted as the number one traveller destination in the world!
Day 3: Time to Start Volunteering!
Your daily activities will vary, depending on your chosen volunteering project. The in-country team will give you your itinerary during your orientation.
An example of a typical itinerary for the teaching programme is:
At 7:30am you will be collected from the volunteer house and transferred to the project. Your working day will begin at 8:00am when the first children arrive. Lessons then run to around 10:00am, at which time the children will leave to head to their local government school.
Unfortunately we and our local team in Cambodia have zero control over the day to day structure of the schools we support. The gap between morning and afternoon lessons and can vary and seem a little long but during this time the children attend their compulsory Khmer lessons at the government schools.
During this break you and the other volunteers can sit down and plan lessons, discuss and create new teaching methods, create teaching materials and games and plan your day to day. We do ask that volunteers have the ability to use their own initiative and come up with ideas that will benefit the school, the NGO and most importantly the children and their education.
Lunch (included) is then served around midday after which you'll have the opportunity to help with the general maintenance on the school area. This could involve activities such as helping with painting classrooms and furniture, developing and creating signs and working on the schools new recycling policy or even building new classrooms.
The children will then return at around 2pm and lessons will continue until 4pm. At around 4pm you'll be transferred back to the volunteer house where you can freshen up and head out in to town or just relax and prepare for the following day.
We recommend that you get out and explore Siem Reap. It's one of the coolest cities in South East Asia and has a very laid back backpacker vibe that's easy to find and fit in with. There's always a good, cheap party going on and your in-country coordinator will explain the very best places to go, activities to do and restaurants to eat at.
Your accommodation is just a 10 minute walk from the main centre of Siem Reap where you can find supermarkets, restaurants, markets, bars, clubs and much more.
There is plenty to keep you busy in the evenings and weekends. We do ask that you save the partying until the weekend, so that you are fresh and motivated to work during the week. It's also possible to spend a weekend exploring the Capital of Cambodia, Phnom Penh, if you're up for an 8 hour coach ride, or in rainy season, a 6 hour boat ride.
If you fancy getting out of Siem Reap and seeing some more of Cambodia, our in-country team will be able to recommend the best places to go and help you make arrangements.
Accommodation in Volunteer House
Arrival Airport Transfer
Lunch (On days that you are volunteering only)
Daily Return Transport to the NGO
All Project Materials
Donation to the Project
Local in country team
24/7 emergency support
Flights
Visa
Travel Insurance
Return Airport Transfer
Breakfast, Dinner and Snacks
You'll be staying in a brand new volunteer house in the heart of Siem Reap. There are four large en-suite bedrooms sleeping 3 to 4 volunteers in each.
The house is furnished throughout and has a fully fitted kitchen, two large sitting areas, a dining area that seats up to 12, a large garden and TV and DVD player. Free WIFI is available at the house.
All bedding will be provided. Each room has a fan and air-conditioning. Please bring your own towel.
During your volunteering days the lunch meal plan will vary. This will be explained to you during your orientation and depends on where you will be volunteering your time. Wherever you are placed your lunch is included during your volunteering days.
Breakfast and Dinner will not be provided, however, the volunteer house is a 10 minute walk to the main centre of Siem Reap, where you'll find supermarkets, restaurants, markets, street food, even western fast-food take aways!
If you have any dietary requirements or allergies, please let us know.
More Accommodation & Meals
To get a flight quote simply use the form below, or contact our fantastic flights team on 01892 277037.
Get Flights Quote
You should arrange for your flights to arrive into Siem Reap International Airport (airport code REP) on your programme start date and depart on your programme end date.
To arrange your flights, contact our fantastic flights team on 01892 277037 or email them at [email protected] They will be able to search for the best flight offers to your chosen destinations, so you can plan and organise your trip in one place. Just make sure you give them your full name, as stated in your passport, along with your chosen departure dates, return dates, and any other details you want to include.
The minimum age for this programme is 18 years.
A current DBS check is required to participate in this programme, we can assist you with this so please contact us for details. You will be required to take a hard copy of your DBS check with you when you travel to Cambodia for this programme.
You will need a visa to enter Cambodia. You can obtain a visa online before travelling or on arrival at the airport (where you will need to pay the 30USD fee). If you are planning on extending your stay it is your responsibility to ensure that you have a valid visa for the duration of your stay, or obtain any necessary visa extensions while you are in Cambodia. Alternatively it is also possible to obtain an e-visa for Cambodia, this can be applied for online.
How Many Other Volunteers Will I Be With?
For this particular project there is no minimum number, you will usually find you are in a group of 2 to 5 volunteers.
Can I Visit Angkor Wat?
Yes of course! As you are based in Siem Reap, Angkor Wat is very close by so you can easily visit at the weekend!
Is An Airport Pick Up Included?
Yes, if you arrive on the programme start date an airport pick up is included and a member of the local team will be there to meet you.
Can I Choose More Than One Project Option?
For this programme you will need to choose one of the options to volunteer at during your time in Cambodia.
Online booking is unavailable for this trip
If you'd like to discuss availability or would like us to help you find a similar trip please contact us...